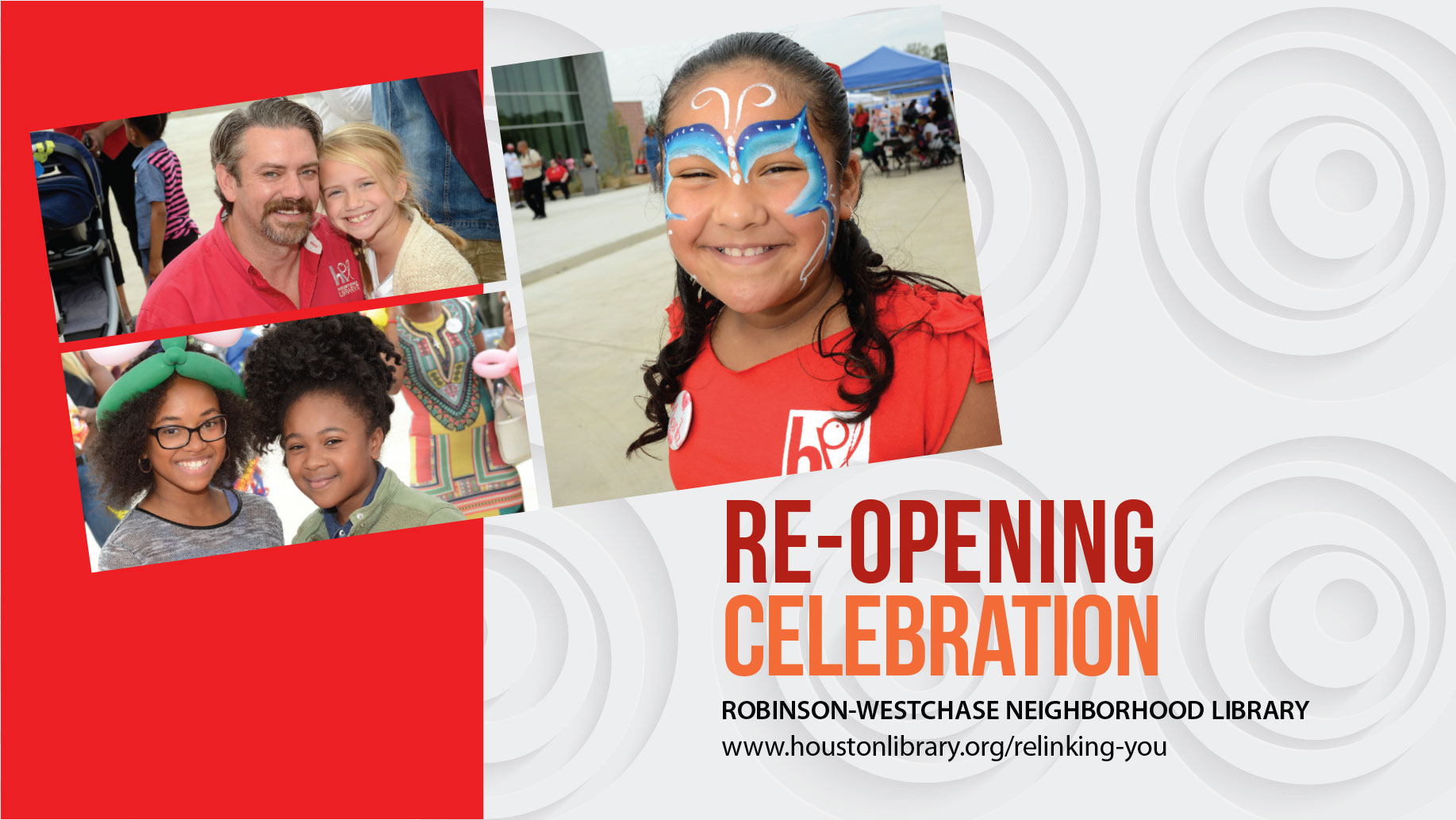 HOUSTON - The Houston Public Library (HPL) invites everyone to join the grand re-opening celebration of the Judson W. Robinson-Westchase Neighborhood Library on Saturday, April 28, 2018 at 2 PM. After being closed over a year, the beautifully renovated Library will re-open its doors to once again offer its free services and resources to the community. The Robinson-Westchase Neighborhood Library is located at 3223 Wilcrest, 77042, 832-393-2011. For more details visit: www.houstonlibrary.org or call 832-393-1313.
HPL will celebrate the re-opening with face painting, dance performances, arts and crafts, retro movies, interactive games and activities, and much more fun. The celebration will  be kicked off by HPL's Director, Dr. Rhea Brown Lawson, and City Council Member Steve Le of District F, followed by a thrilling Lion Dance performed by the Vietnamese Civics Center.
Families will enjoy  mesmerizing dance performances and a gorgeous multicultural fashion show graciously presented by community organizations such as Taiwanese Cultural Society, School of Indian Classical Dance & Music, Guangxing Association of Texas Art Performing Troupe, and Oriental Arts Center.
Children will enjoy making paper puppets and lanterns and learning how to write Chinese calligraphy. Parents and toddlers can dive into wonderful storytimes, while teens will enjoy henna painting, creating squisy circuits, playing the fun Mario Kart video game and robotics..
Local venues will be on hand to provide tasty treats including Traders Joes, Yogurtland, Smoothie Strong and Star Berry Sno-balls.
The Westchase District will be on hand to answer any questions about the upcoming trail which borders the library grounds.
About the renovation
Architect firm, Page, designed the renovations, and Balfour Beatty Construction, LLC constructed the extensive upgrades to the 17,368 square foot library. The renovation included new from ceiling to floor windows that stretch across the front of the building; a new roofing system; an enhanced electrical system; and reconfigured and expanded spaces to include an an adult reading room, an adult quiet room, a children's area with dedicated space for toddlers, a relaxing place just for teens, a training room and a large conference room. The parking lot, landscaping, irrigation and site elements were repaired or replaced.
The library will host state-of-the-art technology with increased computer services, the latest self-checkout stations and introducing self-checkout stations for smart tablets.
About Judson W. Robinson Jr.  
Judson W. Robinson, Jr. was the first African-American elected to a city-wide office since Reconstruction, when he won election to Houston City Council in 1971. A tireless advocate for education and civil rights, Robinson was re-elected nine times. Before entering city politics full-time, he had achieved success in high school and college football and in diverse areas of business.
About the Houston Public Library
The Houston Public Library (HPL) operates 35 neighborhood libraries, four HPL Express Libraries, a Central Library, the Houston Metropolitan Research Center, the Clayton Library Center for Genealogical Research, The African American Library at the Gregory School, and the Parent Resource Library located in the Children's Museum of Houston. With more than eight million visits per year in person and online, HPL is committed to excellent customer service and equitable access to information and programs by providing library customers with free use of a diverse collection of printed materials and electronic resources, Internet, laptop and computer use, and a variety of database and reference resources with live assistance online 24/7.
For further information visit the Houston Public Library at www.houstonlibrary.org on Twitter@houstonlibrary or call 832-393-1313.